Hosting Services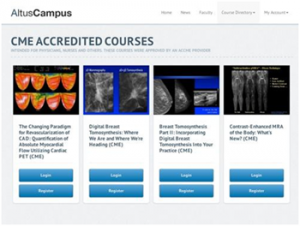 Why host your medical education programs at altuslearn.com?
altuslearn.com is an ACCME-compliant medical education website that is not affiliated with any individual commercial supporter. Our goal is to provide high-quality current and relevant CE and CME courses for healthcare professionals. Financial support for this site is limited to educational grants for individual programs and hosting fees from the sponsors for the programs, all of which meet the ACCME Standards for Commercial Support.
As CME rules continue to tighten, online distribution of educational programs will be under additional scrutiny. Standard 4.5 of the ACCME Standards for Commercial Support states: "A provider cannot use a commercial interest as the agent providing a CME activity to learners, e.g., distribution of self-study CME activities or arranging for electronic access to CME activities." [emphasis added]. There is an increased need for independent Web sites that provide access to accredited programs without any potential conflict of commercial support for the creation or maintenance of the site itself.
It can be a challenge for medical institutions and vendors to continue their commitment to support professional medical education. We are committed to help institutions, medical societies, and corporate supporters fulfill their commitments to educational programs while ensuring full compliance with all ACCME regulations. This protects all parties involved and strengthens the credibility of the programs with medical professionals.
If you are a medical association or organization, we will work with your staff CME personnel to create educational activities that meet your goals and fulfill your objectives, while staying within your budget.